(Foto by Gracie Hagen)
Dass nicht alle Menschen so aussehen wie die Topmodels dieser Welt, sollte eigentlich jedem klar sein. Dazu muss man kein Einstein sein, sondern einfach nur seine Kulleraugen aufmachen. Was im Grunde total ok ist (also nicht so vermeintlich "perfekt" auszusehen), wird uns von Medien, Modewelt und High Society dennoch täglich als "nicht schön genug" unter die Nase gerieben und bringt Millionen Menschen dazu sich in sinnlose Diäten und/ oder Schönheits-OPs zu stürzen. Dass bei Fotostrecken, Werbungen und Co. meistens technisch nachgeholfen wird (oder sich die Models fast zu Tode hungern), um alles in seine "richtige" Form zu mogeln, scheinen viele dabei zu vergessen.
Unsere Gesellschaft bestimmt nun mal das aktuelle Schönheitsbild und das heißt momentan zu unser aller Leidwesen: Groß + Dürr = Schön!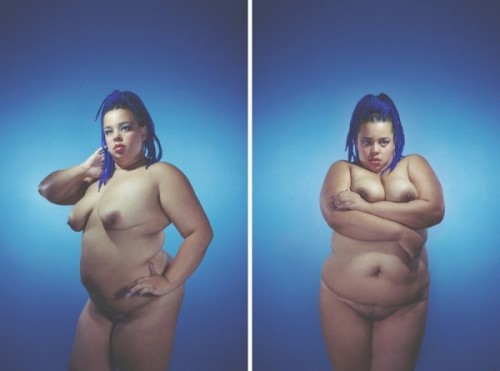 Um dieser gesellschaftlichen Norm und dem Irrglauben, dass die Menschen in der Werbung die wahren schönen Menschen sind, ein Ende zu bereiten, hat es sich eine junge Fotografin zur Aufgabe gemacht, diese Illusion bildlich aufzuzeigen und als falsch zu enttarnen. In der Fotostrecke Illusions Of The Body zeigt die Amerikanerin Gracie Hagen, dass die vermeintliche "Schönheit" gewisser Menschen eben nicht nur im Auge des Betrachters liegt, sondern auch (und vor allem) viel mit Kameraeinstellung, dem richtigen Licht und dem perfekten Winkel der Abbildung zu tun hat. So zeigen die Bilder jeweils eine "gute" und eine "schlechte" Aufnahme ihrer Models und beweisen, wie schnell ein anmutiger Schwan im nächsten Moment zum hässlichen Entlein werden kann.
Alle Fotos by Gracie Hagen
Es gibt nunmal kein "Normal". Und diese körperlichen Konventionen, die uns täglich als "die ultimativ schönen und einzig wahren" aufgezwungen werden, sind auch nicht mehr, als die Idee irgendeines kleinen Egos, das seine Mode verkaufen will.
Originally posted 2014-08-11 18:50:19.