Meine Damen, die Herren, ein neuer und frischer cineastischer Happen liegt für euch bereit. Der The Hateful Eight Trailer zieht gerade seine Bahn durch das Internet und macht auch vor SLEAZE nicht halt.
Wer bis jetzt nur den Star Wars Streifen im Kopf hatte, The Hateful Eight ist der neue Western von Quentin Tarantino. In den USA kann man den Film in einigen Kinos schon ab dem 25.12. 2015 sehen, ansonsten muss man bis zum 28.01.2016 warten.
Wer durfte mitmachen?
Die gesamte Crew liest sich wie ein wundervolles Rezept mit Käse überbacken. Wir dürfen uns unter anderem auf  Samuel L. Jackson, Kurt Russell (kreisch), Jennifer Jason Leigh, Walton Goggins, Demián Bichir, Tim Roth (yay), Michael Madsen (yippie) und Bruce Dern freuen.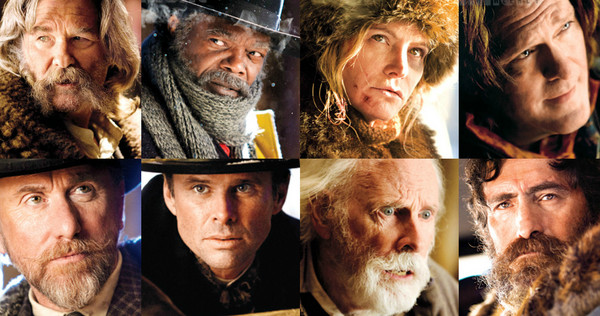 Quentin Tarantino schrieb auch zusätzlich das Drehbuch des Films und ließ von Ennio Morricone die gesamte Filmmusik komponieren. Morricone arbeitete mit Tarantino schon in Django Unchained und  Kill Bill Vol. 2 zusammen. Preise gewann er zum Beispiel für Es war einmal in Amerika und The Untouchables.
Gedreht wurde in Telluride, Colorado. Dort entstandt auch "Der Marshal" mit John Wayne. Ihr seht also selbst, hier wird etwas geboten und zwar genau 3 Stunden und 2 Minuten lang.
Worum geht es eigentlich?
Einige Jahre nach dem Sezessionskrieg (1861 bis 1865) treffen sich der Kopfgeldjäger Warren (Samuel L. Jackson), der Henker John Ruth (Kurt Russell), der Konföderierte Sanford Smithers (Bruce Dern), der Sheriff Chris Mannix (Walton Goggins), der Mexikaner Bob (Demián Bichir), der Kleine Mann Oswaldo Mobray (Tim Roth), der Kuh-Schläger Joe Gage (Michael Madsen) und die Gefangene Daisy Domergue (Jennifer Jason Leigh) in Minnies Kleinwarenladen. Leider wird das kein lustiger Fondueabend für die Acht, sondern ein gnadenloses Abrechnen für Untaten während des Bürgerkrieges.
The Hateful Eight Trailer
Originally posted 2015-11-06 14:45:38.